Health + Fitness + Gymnastics
Physical Education Program

Office Hours
10am to 8pm Mon-Tues-Wed-Thur
Sat 9:30am to 1:00pm
TRY A FREE CLASS
Call Today
609-395-1416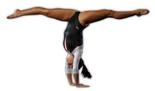 HEALTH + FITNESS + GYMNASTICS
We offer a broad range of developmental Gymnastics classes and recreational Teams for boys and girls who wish to take the Non-competitive or Competitive route.
---
Educational Gymnastics Teaching Method

A positive approach to teaching is always stressed. Teachers create opportunities to praise the students. A Few qualities that are required of a good teacher include patience, a high energy level,organizational skills, friendliness, a nice appearance, the desire and ability to work with children in a positive manner.


Our Facilities

The Cranbury Gymnastics Academy offers the best designed gymnastics training program. We feature multiple sets of equipment for boys and girls events,trampolines, and safety skill mats under all gymnastics equipment. A large changing area, parent observation room, school store, spacious lobby with complimentary coffee, reading material, and educational gymnastics videos are all designed for the safety and comfort of our students and their parents.

Gym Attire

1. Correct attire must be worn during class.
2. Girls must wear one piece leotards, and if desired, shorts or sweats..
3. Boys must wear T-shirts and shorts or sweats
4. Baggy clothing is dangerous and bare midriff is not appropriate for spotting.
5. Long hair must be worn up.


General Conduct

1. Children are not allowed to enter or leave the Gym without a Parent or Guardian.
2. Please arrive no earlier than 15 minutes before your class is scheduled to begin.
3. Children are to be picked up immediately after their class
4. Children are not allow on the gym floor or equipment unless under the supervision of an instructor
5. Parents are encouraged to observe, but please refrain from talking to or instructing your child during class. SAFETY FIRST!!!


Tuition and Policies

1. When registering, you must pay the registration fee, a one month deposit, and first months tuition.

2. Registration Fee - This annual, non- refundable fee is payable only once during the school year (Sept. 1 - Aug. 31 ).

3. A four week deposit is required on registration to be applied to your last four weeks of scheduled classes. If we operated on a month to month basis, we would not be able to efficiently regulate the size of our classes. You are permitted to use this deposit for any month. However, you must notify us at the beginning of the month that is to be your last month of attendance. We will then apply your deposit to your last four weeks. If you stop classes abruptly without four weeks notice, you forfeit the deposit.

4. Each student is allowed make-ups for missed classes during the school year. Missed classes are not refundable or credited. You are paying for the space reserved for your child in class. Make-up classes can be taken only during a month in which you are currently enrolled. Please contact the Gym Office to schedule all make-up classes.

5. Tuition is due during the first week of each month and is based on the number of classes scheduled during that month. For instance, if there are four classes scheduled on your day in a month, your tuition is four times your class rate.

6.*NOTICE* A CHARGE WILL BE ASSESSED FOR ALL LATE PAYMENTS AND RETURNED CHECKS

7. If the above tuition and policies are unclear in any way please contact our Gym Office.

8. Prices and Class times are not listed on our web site please call or email for more information 609-395-1416
CRANBURY GYMNASTICS ACADEMY CLASSES RUN YEAR ROUND.